Just finished reading (source) about the world's first all-in-one powered by Google's Chrome operating system. The device, named the Chromebase, by LG will be shown off at next month's International Consumer Electronics Show (CES).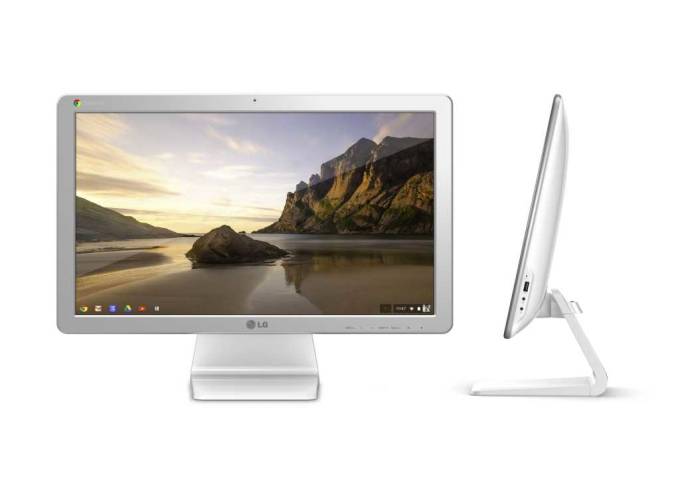 Giving the specs a once over they aren't that impressive by modern workstation standards, but I'd say for an all-in-one unit whose purpose is applications such as Gmail, Search, Maps and YouTube I think it'd fit the bill. The device sports a 4th generation Intel Celeron processor with 2 GB of RAM. Local storage is handled by a 16 GB iSSD drive, but I'm sure that Google will offer some amount of Google Drive storage to go along with it. For me the stand out feature is the 21.5 inch 1920×1080 IPS screen which boasts a 178-degree viewing angle. With HDMI-In, the Chromebase could prove very useful for connecting to a ChromeCast, mobile phone, or even a traditional PC. The Chromebase also comes with a integrated webcam that supports 720P for use in video calling.
I find the Chromebase looks very similar to Apple's older (2004) 21-inch Cinema displays and has a small footprint compared to older more traditional all-in-one devices. Of functionality, I'm reminded of Internet appliances of yore, such as the Netpliance i-Opener, 3Com Audrey, and Virgin Webplayer; a device that's sole purpose is to connect to and consume the Internet. Thankfully the Internet has grown in leaps and bounds over the past 13 years with more true Internet applications versus static web-sites.
Reading about the Chromebase, and Chrome OS, always gets my mind racing with ideas of how and where to implement this type of device into my environment. The major hurdle which brings me to a screeching halt is the lack of management tools. Sure Google offers a management console, limited to the Samsung Chromebooks, but it comes at a premium. For the cost of the device and the management console I'm looking at $400, and if I'm interested in the newer Chromebook 550 that cost balloons to $600. For a couple hundred bucks more I can get a low-end Dell laptop with Windows installed and all management tools my heart desires. And it's this idea of centralized management that seems to be lacking in not only Chrome OS but Apple's OS X as well.
Recently, I've been in meetings where co-workers have sung the praises of the Apple, Mac, and OS X. People love the "Just Works" paradigm of OS X combined with the ability to boot into Windows using Boot Camp. While this type of setup provides a best of both worlds environment, technicians assigned to such environments loath the management of such machines, and the issue is compounded when used in a lab environment.
Apple is in the business of building consumer devices. This was made clear with the retirement of the Xserve in 2011. Sure, OS X Server is still available on a Mac Mini, but a Mac Mini isn't something that comes to mind when I think enterprise operations. Furthermore, there is a lack of offerings from Apple in the form of management tools and applications for their devices. Don't get me started on Apple's lackluster options for virtualizing OS X.
Where I'm going with this is I would love to see Google take a more proactive approach in putting Chrome OS devices, such as the Chromebase, into the enterprise. With more and more enterprise applications moving to the web/cloud, such as Office 365 and SharePoint, Google has an opportunity to develop an OS which would be perfect for light computing enterprise workers, think call centers, secretarial, etc. However, pickup of Chrome OS in the enterprise will remain slow until Google provides a robust, and preferably inexpensive, set of tools to help manage it.
Ultimately, I wouldn't mind seeing a Chromebase in my kitchen office; it's a device running an operating system that I'm definitely intrigued by, but, until it gains a robust set of management tools, keep it out of my work office.