Getting started today was tough. I first woke up at 3:30 to the sound of a down pour. I can't say for certain if it heavier than the day before or not. Moving campsites can have that effect. Different trees can either shield you from the rain or make it sound heavier, it's weird.
I woke up a second time around 6:00 and the rain was still going strong. I really wasn't looking forward to breaking camp. Weather was saying it should stop raining around 11:00, but I knew if I waited that long I'd run short of options at the end of the day. The campground I had my sights on was first come first served.
I want to say I finally got up and moving around 9:00-9:30. It was still raining, but not nearly as bad as earlier. Decided to use the picnic area as a staging grounds for packing up. All my gear was all scattered in different places since I'd had to move camp and the need to keep things dry. Normally I keep some stuff with Shadow overnight to save from having to pack it back up in the morning.
Things were going pretty good when my neighbor came over said, "I'm not sure if you eat breakfast or have eaten yet but…"
"Oh yeah I already had something for breakfast this morning.' I interrupted.
"…Well I thought you might like a little something." he continued and the proceeds to hand me a FULL PLATE of breakfast. I'm talking eggs with cheese, potatoes, and four strips of bacon! I'm such a girl I'm getting all choked up about it just thinking about it. I cannot believe my luck to have had two total strangers offer to feed me for no reason other than out of the kindness of their hearts! Unbelievable.
After inhaling my second breakfast I got back to packing. It took me longer than usual because I was wiping everything down trying to get everything as dry as possible before packing it away. Sitting here now in camp I think I did a pretty good job.
As it got to be time to go I did something that I thought I'd regret. My kit from when I'd rode in to Lewis and Clark was still damp from when I washed it. I guess clothes don't dry when the humidity is 100%, who knew. I was worried I was going to see rain during the ride and didn't want my second set of kit to get wet. If that had happened, both sets of riding kit would be wet which isn't ideal. I bit the bullet and put on the damp kit in hopes of keeping my dry kit dry for the next day. My concern was that I'd get cold riding in wet gear. As I rolled out of the park I realized I made the right decision. Which it was a little chilly to start my kit dried nicely and I was fine for the duration of today's ride.
Overall today's ride was pretty nice. Some of the stretches along the Columbia River were a slog due to the head winds, but once I got back into the tree line it wasn't as bad.
Having had two breakfasts I stretch my riding a little longer than usual and my backside paid for it. When I finally stopped at Maria's Place for a late lunch/early dinner I was desperate for a nice break from riding. I ordered the Camarones Monterrey which is described as, "Bacon wrapped shrimp baked in butter over a bed of rice and topped with Monterey Jack cheese served with sour cream, guacamole, pico de gallo, rice & beans and tortillas (corn or flour)". It was awesome and hit the spot for sure. I followed it up with some fried ice cream which was amazing.
With a full stomach I set off to catch the Cathlamet – Westport Ferry. The ferry leaves from the north bank on the hour and I just missed it. I came around the corner and saw it pulling away. Instead of hanging around for an hour I decided to take in the scenery and do a half lap around Puget Island. I had thought of doing a full loop, but I didn't want to miss the ferry a second time so I cut it short.
The ferry ride only took 15 minutes, but it meant I'd officially crossed the state of Washington! Feeling accomplished I set out for my campground. The climb up US-30 was a long slog, but I just dumped it into my largest gear and spun it out. Thankfully the legs didn't let me down.
I made a quick stop at Bradley State Scenic Viewpoint to check it out. I'd seen it on the map the day before and figured why not. The view was stunning. I could see all the way back down to the Columbia River where I'd just been not an hour before. Very cool!
I rolled into Gnat Creek Campground and was super excited to snag a spot. I honestly think I grabbed the last one. I went through and setup camp as quickly as possible to allowed anything that was wet the chance to dry before the sun went down and the temperature dropped. Think it worked out pretty well as the tent seems dry and just waiting to see how my towel is in the morning.
Ok been going on long enough and I need to get some sleep. Super tired and have a decent day planned for tomorrow. I do need to find a solid coffee shop or diner to hang out at for a couple hours to charge devices. Had enough today to top up the Garmin, Varia, and phone. The lights charged some but not to 100%. Oh well we'll take care of it first thing tomorrow as we roll through Astoria.
79.87 new miles — From Wandrer.earth
Cloudy-Mostly sunny, 56°F-64°F, Feels like 58°F-66°F, Humidity 99%-63%, Wind SSE 2mph-NW 5mph – by Klimat.app
— myWindsock Report —
Weather Impact: 3.6%
Headwind: 49% @ 3.4-3.4mph
Longest Headwind: 44m 41s
Air Speed: 13.7mph
Temp: 55.5-65.3°F
Precip: 100% @ 0.01 Inch/hr
— END —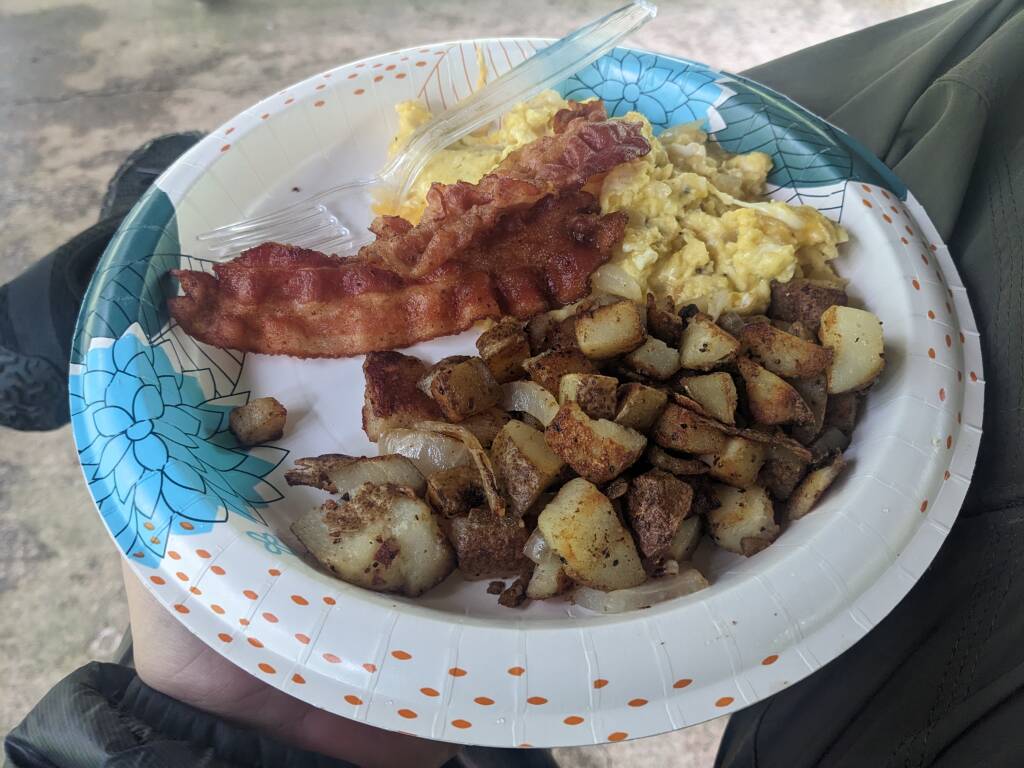 Total distance:
83.03 mi
Max elevation:
717 ft
Min elevation:
24 ft
Total climbing:
3295 ft
Total descent:
-3538 ft
Average speed:
15.32 mi/h
Average cadence:
77 RPM
Average heart rate:
121 BPM
Average temperature:
66.20 °F
Total time:
08:13:56